...the independent technical forum for power generation © 2019 Institution of Power Engineers
Follow us on
Recent events
Some recent IPowerE events.
IPowerE 9th INTERNATIONAL GAS TURBINE CONFERENCE
sponsored by
22 and 23 November 2017
The IPowerE 9th International Gas Turbine Conference was held at Wyboston Lakes Executive Centre near St. Neots, Bedfordshire. This event delivered an excellent technical programme.
Conference Theme "The Role of the Gas Turbine in Today's Global Power Industry and other International Power Applications" <Conference Brochure>
TECHNOLOGY SEMINAR & 71st ANNUAL LUNCHEON
Thursday 3 May 2018, Grange Tower Bridge Hotel, London
This event comprised a morning multi-stream seminar "Meeting the power challenge of today's global markets", followed by a 3-course luncheon and after dinner speakers. This year's industry speaker was Melle Kruisdijk, Vice President Europe at Wärtsilä Energy Solutions. Our guest speaker was Dave Coplin; author, alchemist, catalyst, founder and CEO of The Envisioners.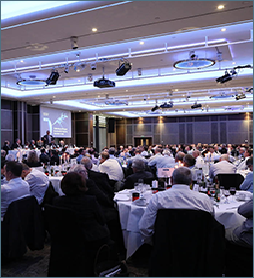 TECHNICAL VISIT TO RICARDO UK
Thursday 16th May 2018
A visit was arranged to Ricardo, Shoreham and focussed on developments in Reciprocating Engine technology, including the CryoPower system - as well as the current Energy Scene in the UK and other markets. A tour of the Shoreham facilities and the development rigs for the CryoPower engine at Brighton was also included.
Programme
09:00 Arrival and coffee
09:30 Welcome - Simon Brewster
09:45 Presentation on Energy Scene in the UK and other markets Energy Consulting Team, Harwell
10:30 Presentation on the CryoPower Engine System and Development - Dolphin N2 Ltd - Nick Owen/
Simon Brewster
11:00 Coffee break
11:15 Tour of the Shoreham Technical Centre
12:30 Lunch
13:15 Travel to the University of Brighton (20 minutes by car depending on traffic)
13:30 Sir Harry Ricardo Centre, University of Brighton - Welcome and overview of the University research
14:15 Tour of Laboratories
 CryoPower Combustor Rig (old building)
 N2 injection rig (new building)
15:00 Wrap up, thanks and photographs
15:15 Depart University of Brighton
IPowerE SEMINAR- EMISSIONS FROM RECIPROCATING ENGINES AND THEIR ABATEMENT
Thursday 18 September 2018, IGEM House, Kegworth
The seminar focus was:
-Forecast where exhaust emission regulations in UK/Europe are likely to go in the short term – say 2025.
-Establish what abatement technologies are available (or being developed) to achieve the
anticipated ELVs. Evidence of how well existing techniques work in practice is especially valuable.
-Establish the cost implications of abatement and thus the likely impact on market prospects for generators.
- Will H2 supply (and fuel cells) become significant players?