A focused effort has been made to record the history of products and companies that Members have been associated with during their careers for future reference purposes.
Close contact is maintained with relevant heritage organisations and the IPowerE Heritage Committee includes representatives of such organisations. In addition to a regular 'Heritage News' entry in the Institution Journal a series of heritage papers have been published and are available for download in the Members Area of this web site (username and password required).
Papers already published or planned for publication include:
Allen S12
Allen S37 Industrial & Marine Range
Blackstone E Range
Blackstone Horizontal Engines
Crossley H Type Engine
Diesel Power for UK Rail Traction
Dorman Engines
Free Piston Gasifiers
Gardner Diesel Engines
Harland and Wolff Diesels
McLaren-Benz Diesels
Early Mirrlees History
Mirrlees HF Diesel Engine Range
Mirrlees J and J Major Engines
Mirrlees K and K Major Range
Mirrlees Blackstone MB190 Engine
In addition to the above a number of heritage DEUA and IPowerE papers dating back to 1918 are available for download. Further papers can be added on request.
The IPowerE Council introduced a Heritage Award for organisations making exceptional contributions to preservation of the industry heritage. To date awards have been made to three organisations as follows
The Anson Engine Museum
of Poynton, Cheshire for the restoration to working order of early internal combustion engines in the 'Rattling Monsters' section of the Museum.
The Internal Fire Museum of Power
of Tanygroes, Ceredigion, Wales for the restoration to working order of a Sulzer air blast injection engine as a working example of the original engine designed by Dr Rudolph Diesel
The South Eastern Tug Society
of Chatham, Kent for the restoration of the British Polar M45M engine as fitted in the Motor Tug Kent which is believed to be the only direct reversing engine from this manufacturer left in working order.
IPowerE heritage activities
The IPowerE Council formed a Heritage Committee to concentrate on all aspects of heritage relating to reciprocating engines and gas turbines. Heritage activities of the Institution now include visits, lectures, and the publication of heritage papers.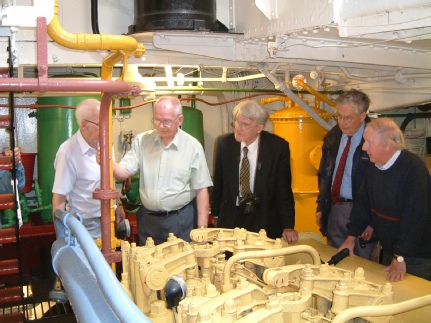 Mirrlees Blackstone MB275 Range
Mirrlees MB430 Diesel Range
Mirrlees U & T Range
Mirrlees National A (Monarch) Diesel Range
Napier Deltic
National Gas and Oil Engine Co
National B Series Engine Range
National F Series Engine Range
National Gas and Oil Engine Company R Series Engine Range
Newbury Diesel Company Limited
Ricardo Tank Engines of World War 1
Rootes/Commer TS Opposed Two Stroke Engine
Ruston AO Engines in Canada
Ruston 10H Restoration
Twin Bank Engines
NATIONAL TRUST - SPEKE HALL
Hornsby Akroyd Oil Engine - Volunteers required
The National Trust is seeking volunteers to assist with the operation and maintenance of an early Hornsby Ackroyd oil engine which normally works for one day each weekend in the season. The existing team has lost a few volunteers due to ill health and the operation of the engine is now restricted due to the lack of resources.
Anyone with an interest in assisting the National Trust with keeping this early example of an oil engine in operation should contact the IPowerE office in the first instance.